'Twas Christmas Eve….the snow lay outside the practice like a blanket' (well…not quite…)…. 😉
Camilla and I always try to give the staff as much time off around the festive season as possible. The normal plan for Christmas and New Year's Eve(s) is to work in the morning in the practice and then have one vet and nurse on call for the afternoon – we very rarely get called!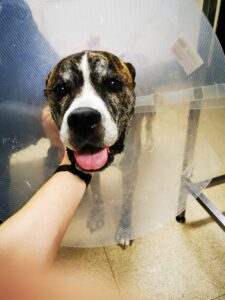 But animals of course don't always consult the calendar. We had an extraordinary case on Christmas Eve. It had been very quiet all morning with only a handful of appointments to be seen. The staff were understandably keen to be going home so we sent half the team home at noon. At 12:01 we got a call from a client who was very worried about their lovely dog Molly.
Molly had suddenly stopped putting weight on one of her hind legs. We told them to come straight down. I saw Molly and she was hobbling on her back leg, something clearly was not right. Having walked her up and down outside, and examined the leg, I was none the wiser. On talking to Molly's owner further it turned out she hadn't been very well for 10 days or so, picking at food but nothing specific.
To cut a long story short, it turned out that Molly had an infected uterus. We performed emergency surgery that afternoon and Molly has now made a full recovery I am very pleased to say. Her uterus was so full of infection that the organ itself weighed 2Kgs after it was removed. It was so full that had surgery been delayed for more than 24 hours it would have burst making her extremely ill and at risk of death. It's rare to have true emergencies in general practice – but this was one for sure and we are so happy we managed to save Molly.
I'd like to say a big public thank you to our amazing nurses Faye and Lotte – both of whom stayed so late on Christmas Eve to help me operate on Molly and clean everything up afterwards – they truly are stars!
All of us here at Kelperland wish you and your pets a happy and healthy 2020.
Simon
You can even download them and pass them on to friends and family.