We're Here For Your Pet In Sickness And In Health
Whether it's a routine check-up, addressing a health issue or diagnosing and treating something more serious, we have the experience, facilities and know-how to help your pet out.
Consultations
Available Monday to Friday between 08.30-11.30 and 15.30-19.00, and Saturdays from 09.00-11.30.
During your consultation, the vet can diagnose and treat illness and/or carry out a range of preventative health care procedures. Priority is given to urgent cases – we will always fit you in.
Before coming into our practice, please feel free to enjoy a virtual tour by clicking here.
Telephone 01628 624935 or Request an Appointment.
Diagnostic Tools
In-house blood machines can tell us within minutes about the inner health of your pet. They are particularly useful in very sick patients, where the results will impact on the immediate treatment required. This machine also allows us to perform pre-anaesthetic blood profiles, highlighting any potential issues an animal may have with an anaesthetic, before it has even begun.

State-of-the-art digital X-ray allows us to quickly take superb images for accurate diagnosis. These can then be easily demonstrated to you on an iPad, so you can understand what is happening.

Ultrasound lets us look inside your pet's body (most commonly the abdomen) in a completely harmless fashion by placing a probe on the skin. In addition to our own machine, we can also arrange for a specialist ultrasonographer to examine your pet in more challenging cases.
You can even download them and pass them on to friends and family.

House Calls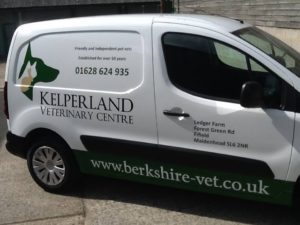 We realise that there are circumstances where a house visit is more appropriate for you and your pet, and we are happy to arrange a visit to your home on these occasions.
Please note that these visits have to be carefully arranged so as not to clash with routine appointment times or current in-patients. Ideally they would be arranged the day before, or before 10am on the day you would like a visit.
Obviously this is not possible in emergency situations, and in these cases we will always work out a solution for you.

Prescriptions
Most medications are dispensed during consultations and after examination by the veterinary surgeon. Current legislation requires us to carry out regular re-examinations to confirm the efficacy of the medication, the accuracy of dosage, and the absence of any significant side-effects (which may not be obvious).
Most long term conditions will require an appointment with the veterinary surgeon at no more than three monthly intervals, subject to the judgement of the clinician in charge of the case.
For owners requiring ongoing supplies of medication we will endeavour to prepare your prescription within 24 hours, depending on stock levels.
Please call us on 01628 624935 if you wish to order repeat medication.
Overnight Care
At Kelperland we think a vital service we offer is to keep ill or immediately postoperative patients here in the practice overnight.