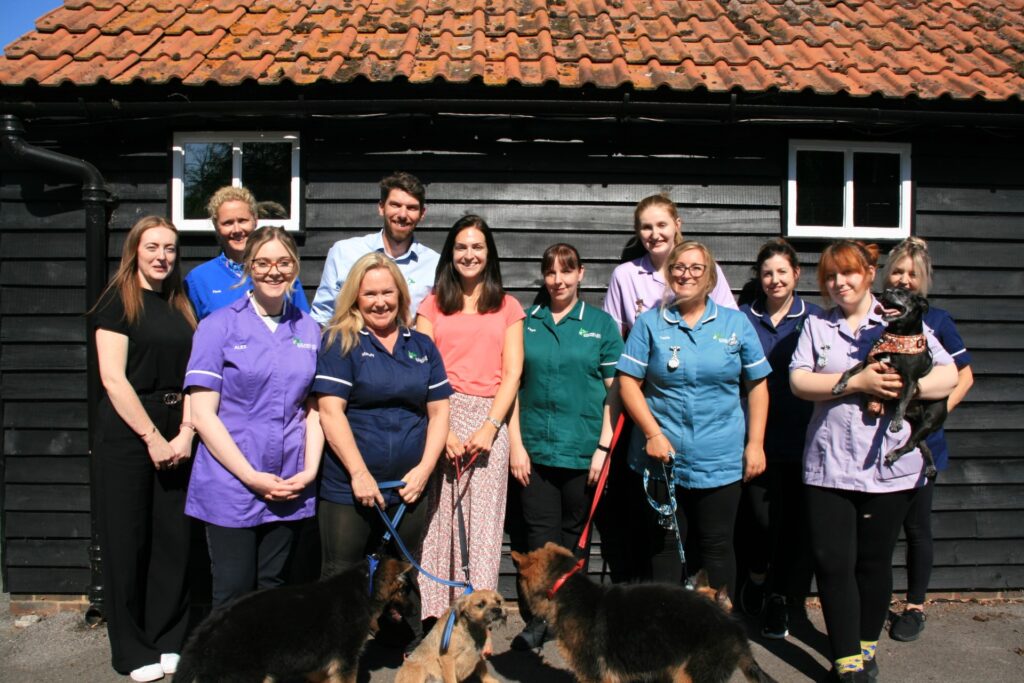 Kelperland Vets Has Proudly Cared For Berkshire's Pets For Over 50 Years
"Traditional Values, Exceptional Care"
We have stayed true to our traditional values and continue to maintain the feel of friendly, family owned, community practice, situated at the lovely location of Ledger Farm.
Our highly qualified team will provide exceptional care for your pets. We all have pets ourselves and will look after yours as though our own.
The health of the animal is always the  priority

State-of-the-art facilities

A knowledgeable & passionate team

Affordable & fair pricing

Meet The Team
Our caring, passionate team of veterinarians, nurses and support staff have years of experience – ensuring your pet is always in great hands.
Dr Simon Ratcliffe
BVSc certAVP(GSAS) MRCVS
RCVS Recognised Advanced Practitioner in General Small Animal Surgery & Practice Principal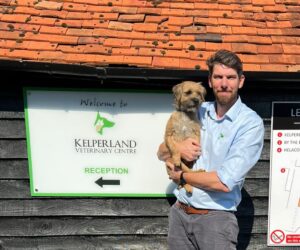 Hi, I'm Simon (we're all on first name terms here!). I took over the running of Kelperland in May 2014. I'm a dairy farmer's son from Cheshire, and have wanted to be a vet as long as I can remember. There was always a menagerie of animals on the farm – cats, dogs, cows, pigs, chickens, turkeys, horses and sheep. Our local vet was therefore a constant presence at home and I became fascinated with his work; caring for animals and helping them to stay out of pain, what job could be more important? When I was 14 I spent a week in our vet's car travelling around the area and seeing cases….I was hooked – and have been ever since!
I went University in Liverpool and graduated in 2005. I then spent 7 years at two large veterinary hospitals in the North West, with 2 years working at various veterinary clinics in London sandwiched in between.
My main clinical interest is surgery, especially orthopaedics (bones and joints). I am recognised by the RCVS (the veterinary governing body in the UK) as an "Advanced Practitioner in General Small Animal Surgery," which reflects the level of my post graduate training and experience.
I just love being a general practitioner – getting to know clients and their pets, working together to keep our furry friends happy and healthy! I am hugely proud to have been nominated for the Petplan Vet of the Year awards in 2015, 2016, 2017, 2018, 2019 and 2020.
I live with my wife Camilla, our daughter Elana and son Theo. We have a little rescue terrier cross called Ruby…she's adorable inside the house, a real snuggler, but a true terrier outside, sniffing everything and pulling on the lead 🙂 We only live around the corner from the practice so I love nothing more than popping home at lunchtime for a family walk in the nearby fields.
Outside of work and family I'm a keen sportsman and enjoy playing cricket, golf and squash. I've also been swimming in Bray lake on summer mornings – which is "Lovely once you're in…"
Dr. Alex Ogley
BVSc MRCVS – Veterinary Surgeon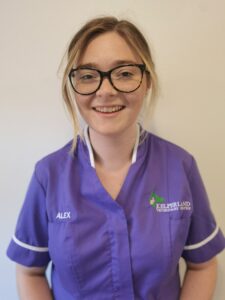 Hi, I'm Alex and I joined the veterinary team at Kelperland in April 2021. I graduated from the University of Bristol and have since focused on treating small animals. I have my own furry family member 'Slinky' who gets into endless mischief but is soon forgiven.
General practice has always been enjoyable for me and I further hope to progress my career focusing on dog and cat medicine. In my spare time, I love anything crafty and can be found knee-deep in paints, pottery, and anything that usually leaves a lot of mess around the house!
Dr. Fiona Dickinson
BVSc MRCVS – Veterinary Surgeon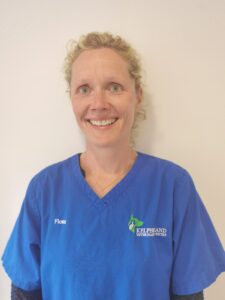 Hello, I'm Fiona and I joined the Kelperland team in September 2018. Since graduating from Liverpool University in 2000 I have worked in Morocco, Devon, and Herefordshire but I've been treating the pets of Berkshire in various clinics since 2003.
I thoroughly enjoy all the many aspects that make up our role as veterinary surgeons and relish the variety that any working day can bring. I also practice acupuncture on our patients as a complement to our other services.
I live (very) locally with our young family, the youngest 2 of whom have just started school, hopefully giving me lots of "free time" to enjoy other hobbies and relaxing outside work!
Dr. Nikki Benawra
BVSc MRCVS – Veterinary Surgeon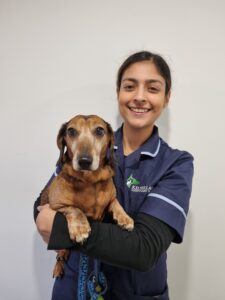 Hello, I'm Nikki and I joined Kelperland in November 2022.  I graduated from the University of Surrey in 2020 and have been working as a small animal vet in Berkshire since then.
I enjoy all aspects of veterinary medicine but have a particular interest in imaging and surgery.
I have a 9-year-old Dachshund called Rolo who was my inspiration to become a vet and in my spare time you can find us both enjoying walks in Windsor Great Park.
Our Nursing & Management Team
Camilla Ratcliffe
Business Manager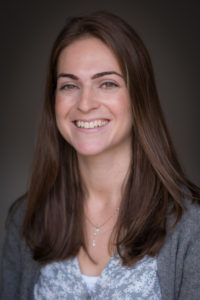 Hi, I'm Camilla and I've been managing Kelperland since 2014 when we took over the practice.  It has been quite a journey transforming a one-man local vets to be the bustling business it is today.  We take pride in our independent ethos, family-based principles, and compassionate team.
Outside of work, I have two wonderful children (already completely animal-obsessed) and a Border terrier, Finlay.  We enjoy going for long walks or bike rides and I also love yoga and drinking coffee or wine with friends!
Clare Parker
Practice Manager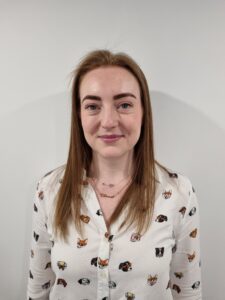 Hello, my name is Clare and I joined the team at Kelperland in February 2023. I have worked in the veterinary world since 2008 gaining experience in both independent and corporate practice.
Over the years I have owned a variety of cats and dogs; including rottweilers, cavaliers, a pug, and a Frenchie, as well as a one-eyed Persian. Sadly most of them have now gained their wings.
In my spare time, I can be found in the gym weight lifting or socialising with friends. I look forward to meeting you and your four-legged friends when you visit the practice.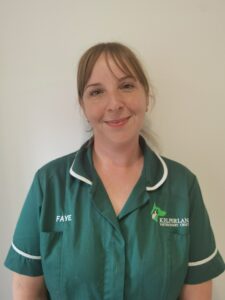 Hi, I'm Faye and I've been working at Kelperland since 2006.
I'm Kelperland's resident cat lady!! I currently have two cats Hank and Dale who are both very special in their own ways. They are rescue cats who I've picked up along the way (occupational hazard) but wouldn't be without them.
Outside of work my hobbies include boxing training and highland dancing and I'm busy learning new dances for exams and shows later this year. I also enjoy baking for my friends and family. My Oreo cupcakes are a particular favourite and a big hit within the Kelperland team!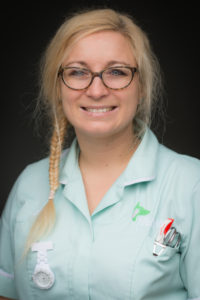 Hi, I'm Lotte and I've worked at Kelperland since 2001!! Kelperland is like a second home to me and I love working here with all the great staff and amazing clients.
I live with my daughter, two dogs – Yogi and Huey, two cats – Olivia and Meatball, and one giant African land snail called Peanut. I have a large collection of retro items, succulents, and cacti and am a crafts enthusiast in my spare time too!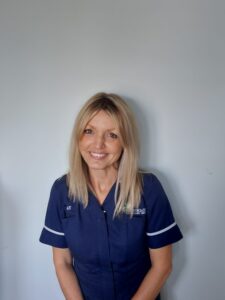 Hi, I'm Kat and I love spending time with my gorgeous rescue dog, Daisy, as well as with my other child with just two legs! My spare time is spent walking one and watching the other play football!
I have been an enthusiastic member of the Kelperland team since September 2015 and love snapping pictures of all your cute pets for our Facebook page…. you have been warned!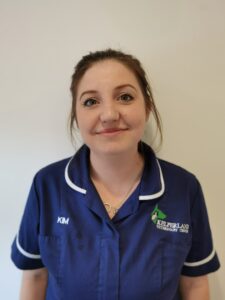 Hi, my name is Kim. I'm local to Holyport and have really enjoyed getting to know you all and your lovely pets since joining the Kelperland team in February 2021.
I have one dog – Oscar, the most gorgeous Staffordshire bull terrier! He is full of character and is such a big part of our family. When I'm not working my spare time is taken up with my two children and a busy family life.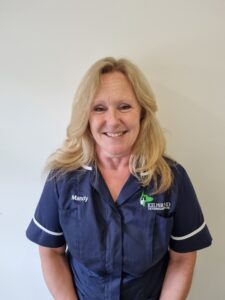 Hi, my name is Mandy and I'm local to Holyport village. I've lived and worked in the area for many years. I love the community spirit here and the people are great!
I joined the Kelperland team in February 2022 and felt right at home the minute I walked through their door.
I own two cats that treat me as their human slave and I'm always looking for more as they are great to have around. I do actually have a large animal family as I look after and care for a lot of animals, large and small, in the local area and they play a big part in my busy family life.
Britney
Student Veterinary Nurse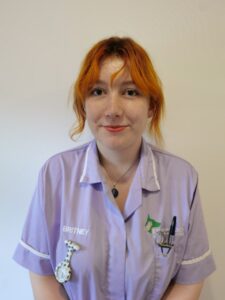 Hi, I'm Britney. I've been with Kelperland since August 2021 and started my formal nurse training in January 2022. I have my own three dogs who I love spending a lot of my time with; a German Shepherd called Winnie, a Jug called Fifi, and a Jack Russell called Poppy.
Outside of work I love shopping for vintage clothing and crystals – so you'll more than likely find me rummaging in a charity shop!
Daisy
Student Veterinary Nurse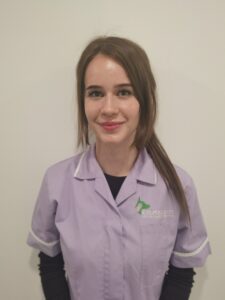 Hi, I'm Daisy and I joined the team here at Kelperland in 2021. I have my own little cavapoo called Cookie, who is my furry best friend. Throughout my teenage years my main focus was horses and I competed – sometimes even at local stables close to Kelperland!
I am hoping to start my nurse training later on this year and would love to be a fully qualified nurse one day.
Katie
Veterinary Care Assistant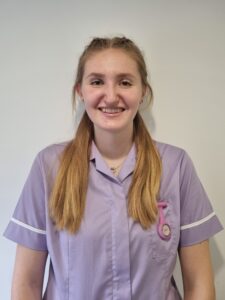 Hi, I'm Katie, and I started working at Kelperland in September 2022 after finishing my A levels. I did A-level biology and have always been interested in working with animals. I have my own little sprocker spaniel called Milo who's absolutely crazy!
Outside of work I play the flute and have done it since I was 7. I also enjoy taking Milo out on long walks with friends.
I'm hoping to start my nurse training next year.
History Of Our Practice
Kelperland Veterinary Centre first opened in 1958 and has grown from strength to strength ever since.